From Akiko to Riyo:
Miss Universe winners from the Asia-Pacific region through the years
Akiko Kojima
…the first Miss Universe to originate from Asia… then 22-year-old model bested four other finalists from Norway, the USA, England, and Brazil for the 1959 MU crown in Long Beach, California. At 5 ft 7in (1.70 m.), Akiko measured 37-23-38 inches (94-58-96 cm.), which many believed as "incredible dimensions". She denied having undergone breast surgery… settled into a quiet married life after her reign.
Apasra Hongsakula
was born and raised in Bangkok. She was a high school student in a boarding girl school in Penang, Malaysia when she won the 1964 Miss Thailand pageant. She then went on to compete in the 1965 Miss Universe pageant held in Miami Beach, Florida, USA where she was adjudged the winner -- the 14th Miss Universe. She later married a first cousin of Her Majesty Queen Sirikit. Although the marriage ended in divorce, she is still a much revered social figure in Thailand.
Gloria Maria Aspillera Diaz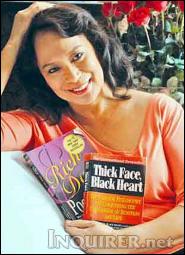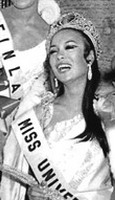 is the first Filipino to bring home the Miss Universe crown. And to think, none of her family members took the competition seriously and did not accompany her to Florida. She was only eighteen when she became Miss Universe of 1969 after outsmarting other candidates on the question on how to welcome the first men that had just landed on the moon--as soon as they were back on the planet. She married businessman Bong Daza with whom she has two daughters, Isabella and Ava Esmeralda. At present, she is a well-respected actress in Philippine cinema and TV industry.
Georgina Rizk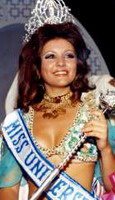 … Lebanon's first and so far only Miss Universe, was born in Beirut to a Christian household. She was crowned in the Miss Universe pageant in 1971 in Miami Beach Florida, USA. She was the first woman from the Middle East and the fourth woman from Asia to win the title. In the pageant, she made a memorable fashion statement by wearing a very revealing top and hotpants…Rizk had competed in the 1970 Miss World competition, but did not place… Currently, Georgina Rizk is currently married to renowned Lebanese singer Walid Toufic and is a judge for the Miss Lebanon competitions.
Kerry Anne Wells
earned Australia's first Miss Universe crown in the pageant's 1972 edition which was held at Cerromar Beach Hotel in Dorado, Puerto Rico. Her crowning moment was not shown on television because of a strike threat among pageant electricians. The screen blacked out as her name was announced as the new Miss Universe. After her reign, she pursued working as a news anchor. Wells's MU victory came in a year that Australian women also won the Miss World crown, the Miss Asia Pacific title, and placed second in Miss International. Kerry Anne Wells is a successful fashion designer, writer and commentator who speaks out about positive realistic body image and self-esteem. She is involved with BodyThink, a healthy lifestyle program designed for Australian schools.
Maria Margarita Roxas Moran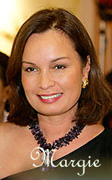 from the Philippines, won the Miss Universe crown in 1973 in Athens, Greece. She is a granddaughter of former Philippine President Manuel Roxas. Then 19-year-old, Margie was one of the favorites during that MU edition. She was even adjudged Miss Photogenic. She is married to Congressman Antonio Floirendo of Davao.
Rina Messinger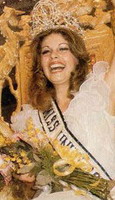 …is the first Israeli Miss Universe…winning the1976 edition held in Hongkong. Upon her proclamation as the winner, she remarked, "I'm no politician. I think my being Miss Universe will show people that Israel has another side, not only war." She is now a lawyer and mother to two daughters.